Bark at the Park with the Cincinnati Reds
Image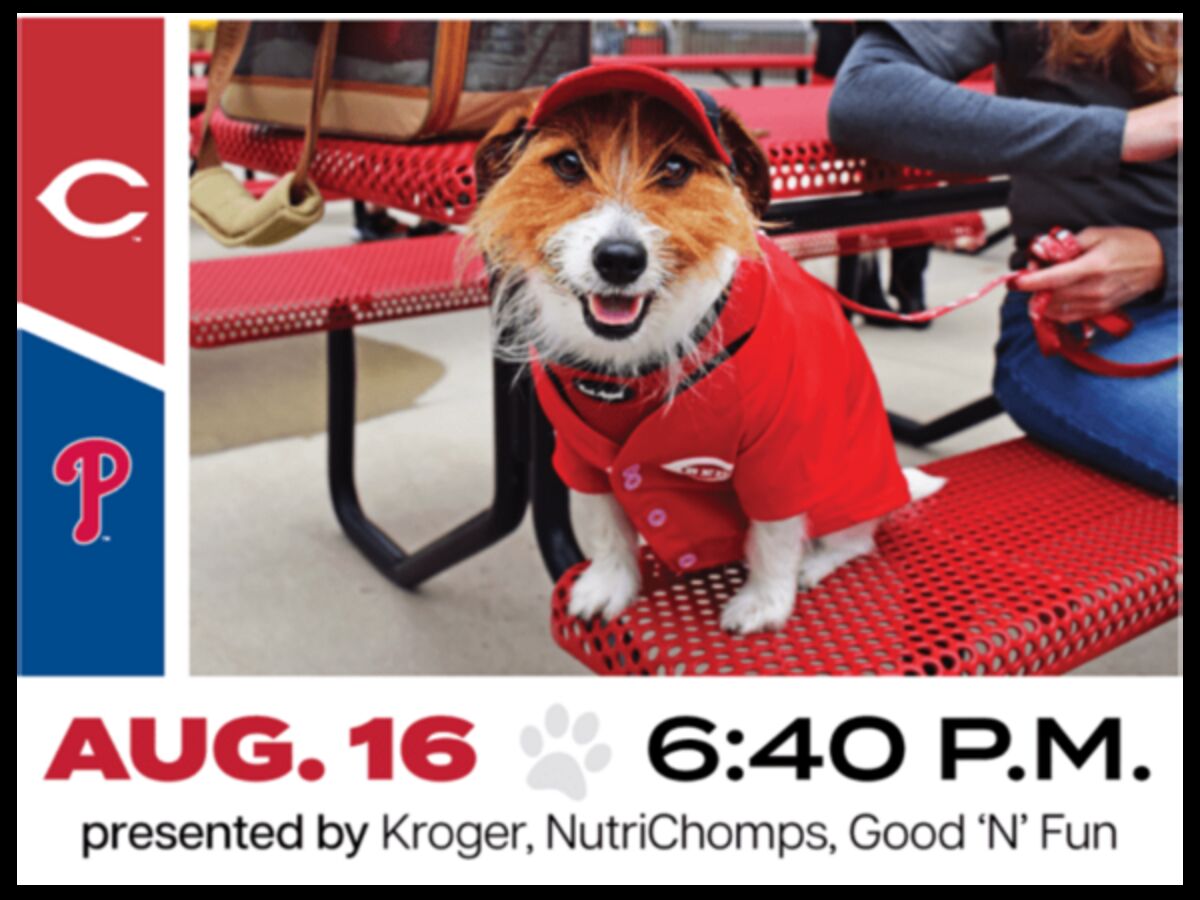 This post expresses the views and opinions of the author(s) and not necessarily that of The Kettering Sentinel management or staff.
Just a day before National Nonprofit day, come celebrate with organizations committed to animal welfare by canine companions by taking your favorite furry friend out to the ballgame on August 16 at the Cincinnati Reds Great American Ball Park for Bark at the Bark! As pets are an integral part of so many peoples' lives, numerous nonprofit organizations have teamed up to bring a special night out to the ballpark for fans and their canine companions.
Nothing beats sitting in your favorite ballpark, watching your favorite team on a hot, sunny day, with a hot dog in one hand and an ice-cold drink in the other. From the national anthem to the ceremonial opening pitch and familiar crack of a bat, America's favorite pastime couldn't be more exciting. Unless, it's a Bark at the Park event, where hundreds of the most adorable pups come out to the ballgame to circle the bases in the opening parade and energize the crowd with their playful barks and boundless tail wagging that create un-fur-gettable memories for all.
In partnership with the American Pet Products Association (APPA) and Pets Add Life (PAL), come out to the event that donates ticket proceeds to the Animal Rescue Foundation and saves lives by promoting pet adoption and the many benefits of sharing your life with a pet. What is not to like about bringing a fur baby to a fun evening of festivities while helping support organizations that believe life is better with pets?
There's something magical about the way pets make us feel – the instant connection and unconditional love is undeniable. Studies show that 74% of pet owners reported mental health improvements from pet ownership and 96% noted that their pet has had a positive impact on their life. PAL knows a thing or two about how pets bring so much light and positivity into our lives, which is why they created the PET FEELS viral video series which will run on the jumbotron at the August 16 event to create further awareness for the human animal bond!
The first Bark at the Park on June 8 was a smashing success, allowing pet owners to get outside and join a community of dedicated pet lovers! Join all the friendly pups again for another night full of meeting new friends, enjoying a pet expo offering samples and photo ops, receiving early access to the First Star Fan Zone and having the opportunity to see (and maybe bring home) dogs available for adoption! Tickets (available for purchase HERE) are $50 and include one dog ticket and one human ticket. Additional human tickets are available for $30 each and additional dog tickets for $20 each. Make sure to have your dog on a leash and bring the waiver stating your pet's vaccinations are up to date beforehand or fill it out once you arrive.
Check out the Bark in the Park website for more information and if you're looking for a dog to welcome into your life and bring with you to the event, take PAL's quiz to see which canine companion is the best fit for you!
Don't hesitate to reach out if you'd like to learn more information about the upcoming game or to learn more about PAL and what it's doing to create a community to connect more pets and with their fur-ever families!
Great American Ball Park
100 Joe Nuxhall Way
Cincinnati, OH 45202
United States